13th International Conference of Ecosystems June 9-10, 2023, Chicago, Illinois, USA (online)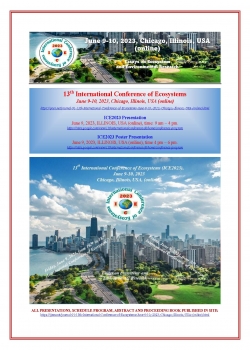 13th International Conference of Ecosystems (ICE2023), June 9-10, 2023, Chicago, Illinois, USA (online)
ANNOUNCEMENT
In the name of the ICE2023 Organizing Committee, I would like to thank all participants for their contribution and high level of scientific work in this year's conference. I wish you success in your further endeavors and look forward to future cooperation with regards to the conference as well as on a broader scale. Looking forward to welcoming you in the International Conference of Ecosystems (ICE2024), June 7-8, 2024, Tirana, Albania or Chicago, Illinois, USA (online).
Thank you for supporting ICE2023. Sincerely
ICE2023 Organizing Committee, Chicago, Illinois, USA (online). June 10, 2023.
Best presentations in International Conference of Ecosystems (ICE2023)
13th International Conference of Ecosystems (ICE2023) : ABSTRACT AND PROCCEEDING BOOK
📁

001 Presentation ICE2023 Prof. Dr. Sukru Dursun -
📁

004 Presentation ICE2023 Cezar Kongoli and Thomas M. Smith -
📁

005 Presentation ICE2023 Zoran Sapuric, 1 Dame Dimitrovski, 2 Sukru Dursun, 3 Filip Ivanovski1 -
📁

006 Presentation ICE2023 Svetla Gateva1, Gabriele Jovtchev1, Tsveta Angelova1, Tsvetelina Gerasimova1, Margarita Topashka-Ancheva1, Ana Dobreva2, Milka Mileva3 -
📁

014 Presentation ICE2023 Eralda Shore (Noçka)1, Alerta Basha2 -
📁

025 Presentation ICE2023 Kovalenko N -
📁

036 Presentation ICE2023 Kadrush Abazi Cure for BPH ICE2023 -
📁

002 Presentation ICE2023 Massimo Zucchetti -
📁

010 Presentation ICE2023 Fatma Kunt1, Buse Nur Köpüklü1, Eda Güneş2 -
📁

013 Presentation ICE2023 Andrew Ravlikovsky1,2, Lyudmyla Symochko3,4,5 -
📁

035 Presentation ICE2023 Alyona Bunas1, Yeuheniia Tkach2 -
📁

031 Presentation ICE2023 Msc. Beson Lushi1, Prof. Asoc. Dr. Isuf Lushi1 -
📁

015 Presentation ICE2023 Violeta Neza, Edlira Llazo -
📁

027 Presentation ICE2023 Prof. As. Dr. Ariana Striniqi -
📁

009 Presentation ICE2023 Prof. Lyudmyla Symochko -
📁

Abstract ICE2023 Code cover content full abstracts -
📁

003 Presentation ICE2023 Anastasia Hrubinka1, Lyudmyla Symochko1,2,3 -
📁

028 Presentation ICE2023 Olga Hafiak, Lyudmyla Symochko -
📁

030 Presentation ICE2023 Yahaya, NZ1, Toros, H2., Dursun, S.3, Juliana Jalaludin4, Kunt, F.5, Mohamad H. U.S6, Ibrahim, Z.F7 -
📁

017 Presentation ICE2023 Shaniko Alljbeu1, Lirim Bekteshi2, Flora Qarri3, Pranvera Lazo1 -
📁

018 Presentation ICE2023 1Emiri, U.N, 2Chukunda, F.A, & 3Ukoima, H .N -
📁

Proceeding ICE2023 code Online -
📁

Content ICE2023 proceeding -